Steven Marks, DVM
Practice Owner - Education: University of Florida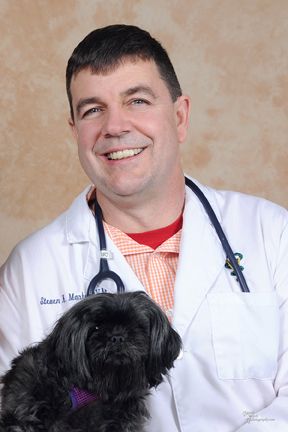 Dr. Marks was born and raised in the Quakertown area where he now lives with his wife, four children, two horses, and an ever growing number of pets . Dr. Marks graduated from the University of Florida in 1988. Since that time he has enjoyed practicing veterinary medicine on a wide variety of species. After graduation he joined a large mixed animal practice for several years before moving to Pittsburgh as the Director of Animal Health for the Pittsburgh Zoo and Aquarium and the National Aviary. After moving back home to eastern PA several years ago, Dr. Marks became Medical Director at a large Emergency and Critical Care Hospital in the Lehigh Valley before purchasing Dublin Veterinary Hospital in May of 2009. Since that time Dr. Marks has enjoyed getting to know our wonderful clients and the pets they love.
Kathy Tuhacek, VMD
Education: University of Pennsylvania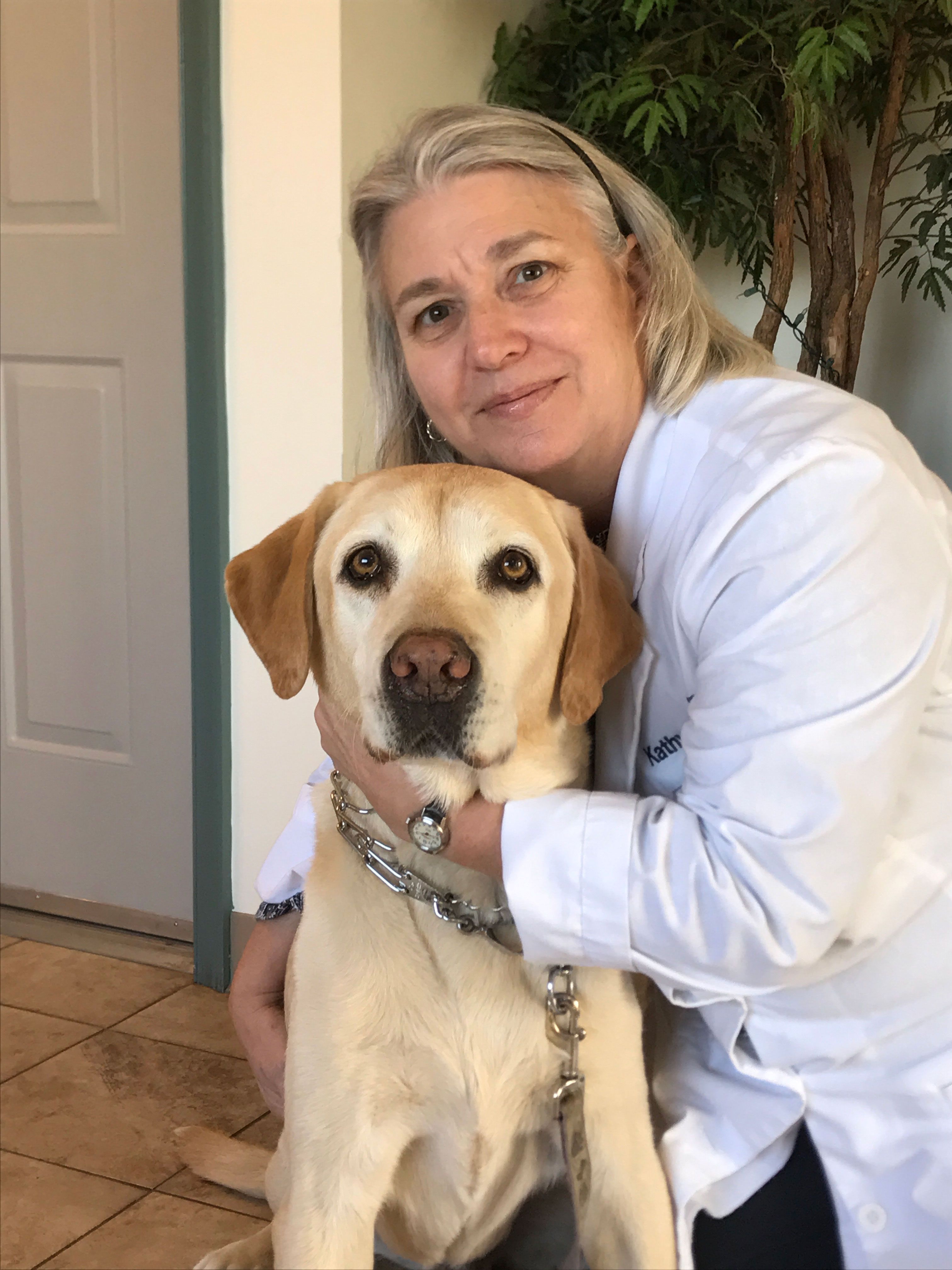 Following a 27 year career as a registered nurse, Dr. Tuhacek graduated from the University of Pennsylvania School of Veterinary Medicine in 2008. She grew up in the area and following employment in a small animal and exotics practice in the Lehigh Valley, has returned to her "roots." Dr. Tuhacek enjoys all aspects of veterinary medicine, but is passionate about preventative medicine and nutrition. She has three adult children and two adorable grandchildren. Dr. Tuhacek is active in her church and in her spare time can be found knitting or quilting.
Arielle Cantatore, DVM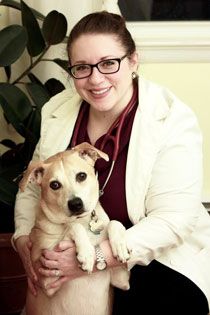 Dr. Cantatore grew up in Poughkeepsie, NY where she spent much of her time in her father's veterinary practice. Since graduation from the Cornell University College of Veterinary Medicine in 2014, Dr. Cantatore has worked in a few small animal practices in the area and has enjoyed learning different ways of doing things. Dr. Cantatore has a particular interest in surgery and pet owner education and is passionate about providing thorough and compassionate care. In her spare time Dr. Cantatore enjoys spending time outdoors (camping, hiking, paddling, scuba diving… you name it!), participating in community theatre, and working her garden. She is incredibly fortunate to share her home with her wonderful husband James, their dog Dixie, cats Sabra and Celia Mae and Ivy the Senegal Parrot.
Lauren Hale, Hospital Manager
Education: Delaware Valley College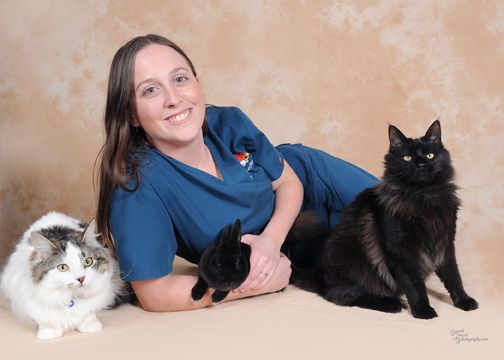 Lauren graduated from Delaware Valley College in 2012 with a Bachelor's Degree in Equine Studies and a specialization in business. She joined the DVH team in the summer of 2013. Lauren has always been around animals and currently shares her life with her boyfriend (Joe), three kitties (Wilbur, Lilah, and Orville), a blue tongue skink (Slick), a red eared slider (Myrtle), a Thoroughbred (Rumor), and her childhood pony (Buttercup). In her free time, she enjoys spending time with her family, riding her horse, going jet skiing on the bay in Delaware, and deep sea fishing.
Lizzie Kline, CVT
Education: CVT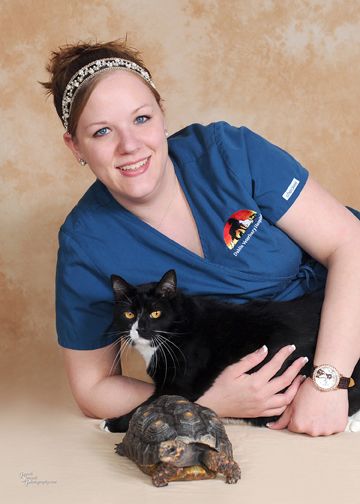 Lizzie has been working with animals since she was 16 years old. She joined the Veterinary field after obtaining her associates degree in Veterinary Technology in 2009, from Johnson College. Lizzie and her husband, Pat, share their home with their 3 cats- Kirra, Zacharie Binks and Willie; Blitzie, their bunny and Abby, a red-footed tortoise. When not at work Lizzie enjoys spending time with her daughter, Genevieve. She also enjoys baking, reading and snowboarding (when weather permits).
Jessica Moser, CVT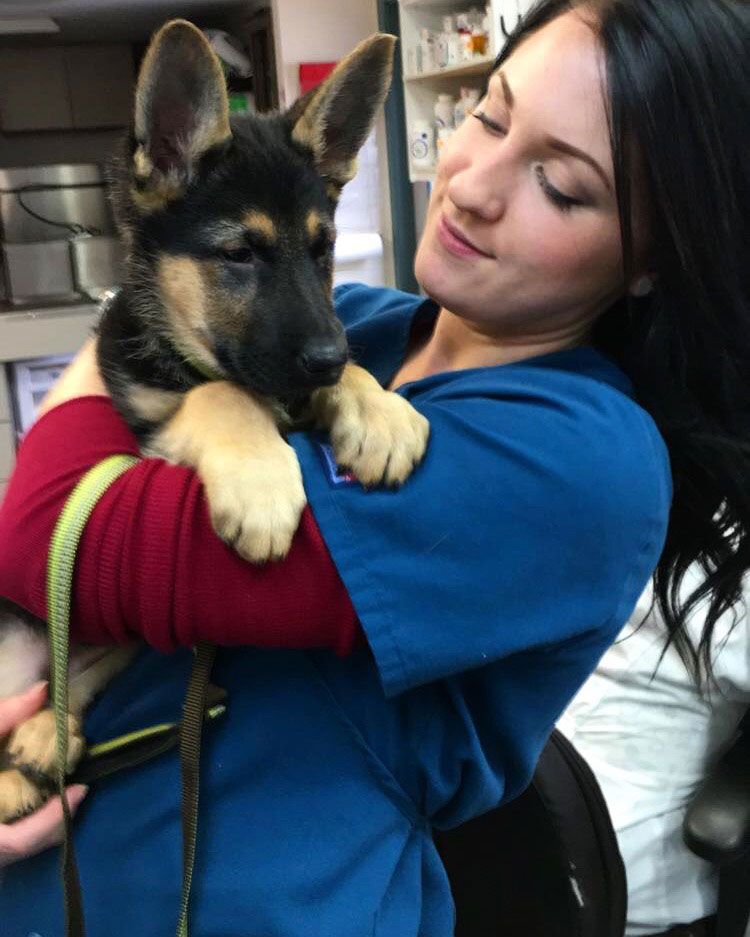 Jessica lives in Allentown with her family and has opened her home to creatures large and small. Growing up, she was highly involved in her local equine 4H club and has ridden and worked with horses since she was 9. She started working in the veterinary field in 2011 and is a graduate of the Lehigh Carbon and Northampton Community College Veterinary Technician program.
Abbie Garber, Receptionist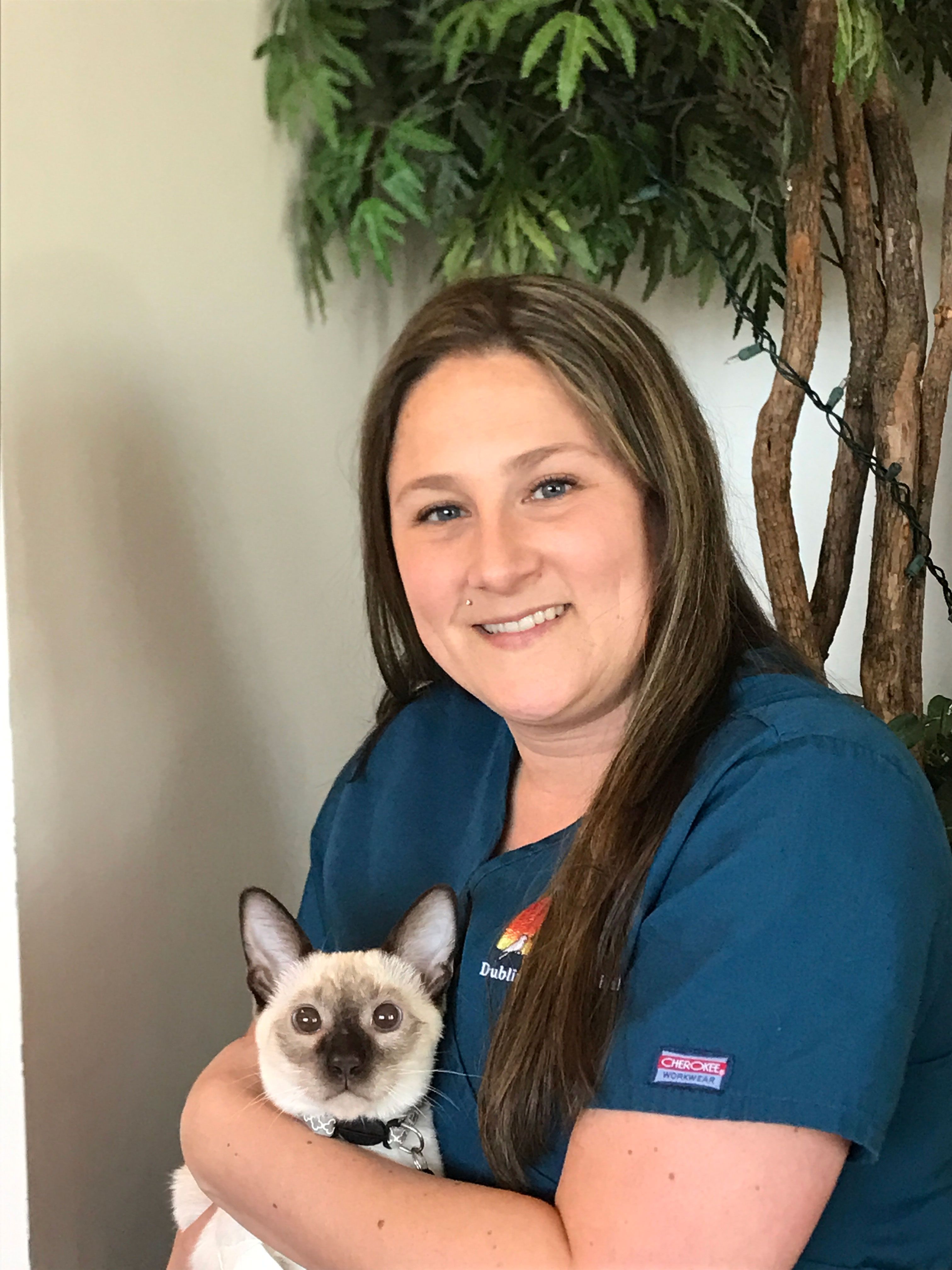 Abbie joined the DVH family in 2015 and has grown to love all of the two and four-legged friends that come in to visit. Growing up with a Veterinarian for a father, she has been in the field for most of her life. This has helped her to gain experience with all types of animals and people. She was very active with horses through her early twenties and now enjoys spending time with her husband, Jeff, and two young girls, Harper and Willow. One of Abbie's favorite things to do when not working is camping with her family and two dogs, Buddy and Daisy. At home, she also has a kitty named Santa and two goldfish.
Morgan Haberstroh, Head Groomer/Veterinary Assistant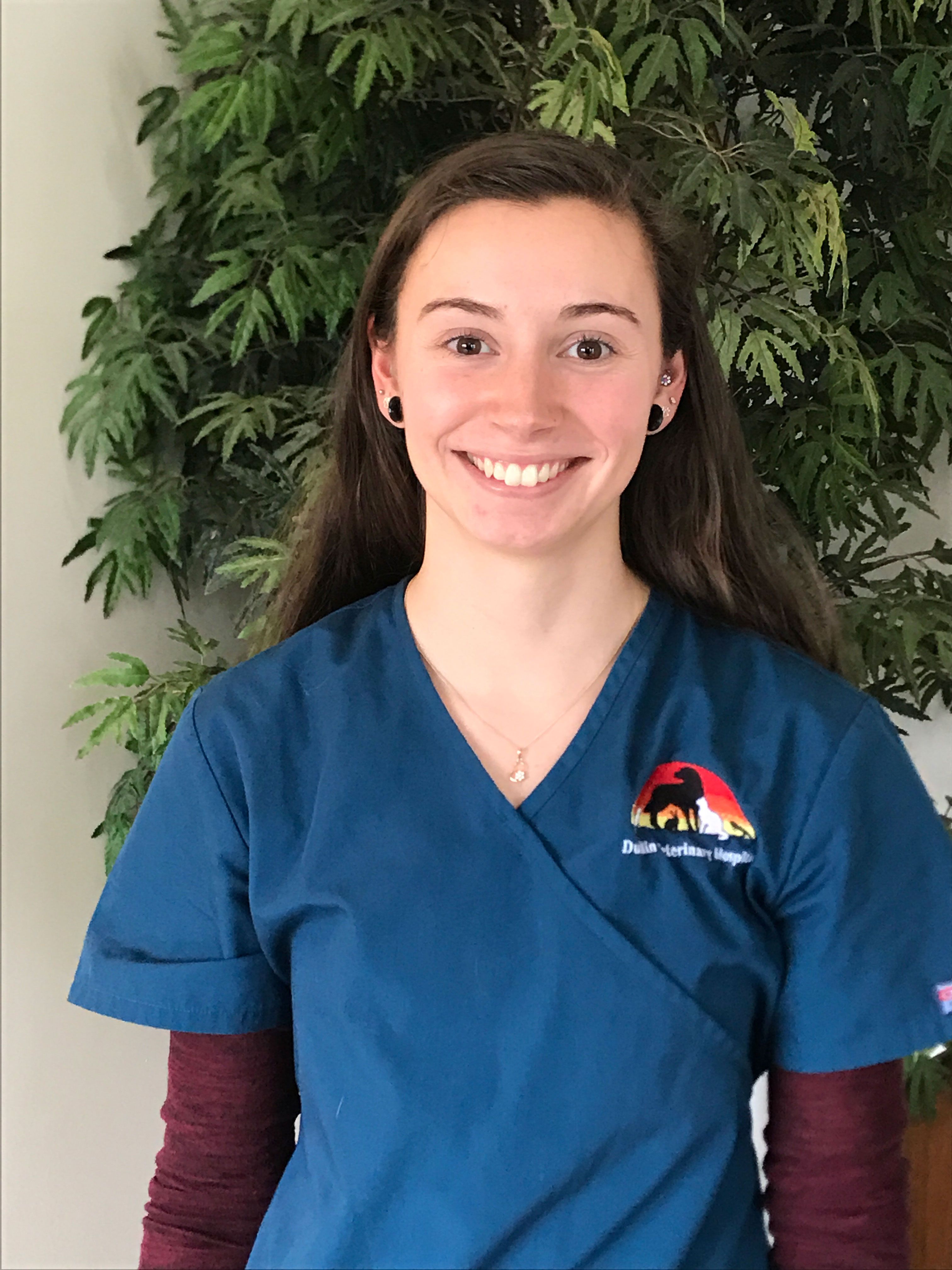 Morgan has worked with dogs and cats since she was 13. When she turned 16, she started to work with a groomer that had a knack for pampering pets with behavioral issues. She has always had a love for the veterinary field, and decided when she started grooming part time that she'd really enjoy becoming a veterinary technician with a passion for exotics. She joined the Veterinary Technician program at Lehigh Carbon Community College in 2015, and is set to graduate in August of 2017. Morgan shares her home with her 5 rats: Flora, Fauna, Peach, Papaya, and Collette. When not at work, she enjoys hiking, kayaking, and going on road trips.
Denine Beck, Veterinary Assistant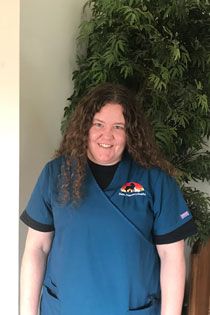 Denine has been an avid animal enthusiast since her childhood. Denine always had an interest in working with animals and gained experience and direction toward the veterinary field while volunteering for Last Chance Ranch. She began the Veterinary Technician Program of Lehigh Carbon and Northampton Community College in 2015 and is set to graduate in August of 2017. Denine shares a home with two adorable cats, Charlie and Casey.
Monica Freiberg, Veterinary Assistant
Monica grew up in her local 4-H sheep and horse clubs, taking leadership positions, and showing her sheep at local fairs. While in 4-H, Monica discovered a passion for veterinary medicine. After high school, she joined the Veterinary Technician program at Lehigh Carbon Community College and is set to graduate in August 2017. Monica lives with her dog, Skye, and enjoys mountain climbing, writing, and metalworking in her spare time.​​​​​​​